New Patients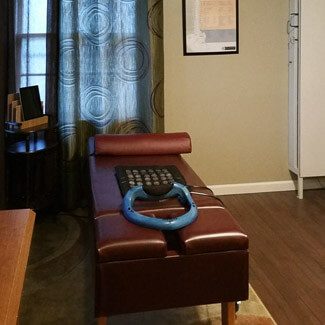 Grant Family Chiropractic in Noblesville is a tranquil oasis of healing where all ages will feel at home. The pleasant background music and calming color tones set the stage for a relaxing experience. When you call to make your first appointment, our helpful, friendly receptionist will walk you through the initial visits so that you know exactly what to expect. We look forward to welcoming you!
ONLINE PAPERWORK »

Your First Visit
You'll be warmly greeted by our receptionist upon your arrival. If your paperwork hasn't been downloaded from our website and brought in completed, we ask that you arrive about 30 minutes before your appointment time to fill out these forms. Once you're done, our chiropractic assistant will escort you back to the examination room to have noninvasive scans done with the Insight™ Subluxation Station.
Then, you'll meet with Dr. Grant for an examination and X-rays, taken on-site if necessary. If any other orthopedic or neurological tests are needed, we'll do those. In most cases, an adjustment is not given on this first visit. When this discovery process is complete, you can schedule your next appointment. Please plan on being here for about an hour if you bring in your paperwork filled out.
Your Second Visit
When you return, you'll sit down with Dr. Grant to go over your findings. We'll provide you with a booklet that has your scans, details of your X-rays, our recommendations and all financial aspects. These will all be discussed, and at the end, you can decide if you'd like to proceed with your first adjustment. All your questions will be answered and all concerns addressed before starting.
On your way out, you can book for future appointments, having allowed about 30 minutes for this second visit.
Following Up
Your regular visits will involve a chiropractic adjustment, which takes about five minutes, and a therapy if appropriate, which can add more time.
Your health care is your decision, and you can stop seeing us at any time. You'll get Dr. Grant's best recommendations, including how to stay well in the future, but the choice to continue care is yours. You can think of your body as the vehicle you drive for life — much longer than the life of your usual car. You wouldn't ride on the same set of tires for the life of your vehicle. We recommend periodic visits for the same reason — to keep your body in shape for years to come.
Ready to Get Started?
Most insurances are accepted at our practice, and we participate in ChiroHealth USA's discount program. You can contact us today to book your time!

New Patient Center | (317) 219-0354