About Us
Chiropractic helps you express life at your best!
Hoosier Proud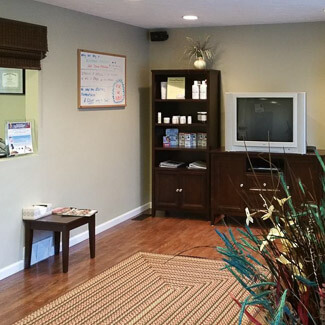 Dr. Pamela Grant has been in practice since 2003, after graduating from Palmer College of Chiropractic in 2002. She's a first-generation chiropractor and the only one in her family to start a business.
Born and raised a Hoosier, she knew she wanted to practice in her home state of Indiana. From where she was living in Fishers, IN, Noblesville was a town she drove through frequently to visit her family in Kokomo. "Each time I'd go through the town, I kept visualizing myself here. I didn't choose my location; my location chose me. I fell in love with it!"
A Doctor You Can Relate To
Warm and approachable, Dr. Grant doesn't put on doctorly airs with her patients. Being the only female chiropractor in our town allows her to understand a variety of issues related to women. She is passionate about providing care for patients of all ages who are seeking alternatives to traditional medical care or desiring to reach higher levels of well-being.
MEET DR. GRANT »

One Success Story
One such success story is that of a young girl whose mom brought her in due to attention and behavioral issues. Just 7 or 8 years old, the girl couldn't keep her thoughts together, fidgeted nonstop and couldn't sit still. Dr. Grant saw her twice a week for about a month, and the transformation was miraculous.
The young patient, at first apprehensive about receiving care, soon came in and would jump on the table, knowing that the adjustments were changing her life for the better.
Mom and Dad state that their daughters's attention span has improved greatly in the classroom and she can complete a conversation without jumping from topic to topic.  She loves her regular chiropractic visits too!
As your partner in health, Dr. Grant and her team provide a relaxed atmosphere where you can get healthier and experience the incredible changes that chiropractic care can make in your life. Contact Grant Family Chiropractic today to learn more. Existing patients benefit from convenient appointment times, and new patient are always welcome!

About Grant Family Chiropractic | (317) 219-0354